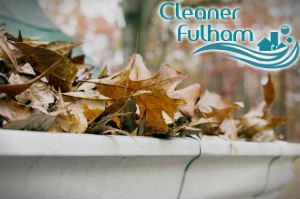 Every homeowner should take care of the clean condition and properly functioning of their drainage systems. We can offer you highly effective and reliable gutter cleaning which we provide in and around Fulham during weekdays, weekends and bank holidays.
The work of our staff includes hoovering, washing and sanitising all internal and external surfaces of fascias, soffits and downpipes. Get in touch with us whenever you need effective removal of the blockages from your downpipes and drainage systems and we will provide the service.
Our cleaners are trained, experienced and supplied with modern specialised equipment.
First-rate Gutter Cleaning Fulham
You can ensure the proper functioning and good condition of the internal and external surfaces of the gutter system in your estate using our services. We conduct:
Hoovering of the downpipes
Checking the condition of the downpipes using tiny cameras attached to telescopic poles
Cleaning from ladders
Washing fascias and soffits
Thorough and well sanitising of all kinds of drainage systems
Our staff work in line with the requirements of the local authorities doing the cleaning professionally and effectively. They vacuum the interior of downpipes after checking them using small cameras attached to telescopic poles.
"We are very pleased with the results of the gutter cleaning we booked using this agency's services. The technicians arrived on the appointed date and time and did the cleaning and unclogging very effectively. We can use the downpipes now without problems. The price of the service wasn't too high. – Aidan"
Professional Gutter Cleaners in SW6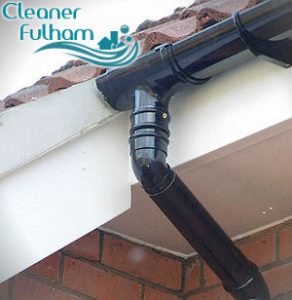 The cleaning will be implemented from the ground using portable vacuum cleaners designed for gutters and extendible carbon fibre poles. The gutter cleaning which we can offer you available in and around SW6 is suitable to be used in houses, blocks of flats, office buildings and other estates. Get in touch with our phone operators to book the service and receive a free quote.
If you need professional cleaning of the components of the gutters in your house, block of flats, commercial or other kind of property, contact us. We can offer you qualitatively and safely implemented cleaning of all gutter components. Using specially designed for this work tools and machines, our staff can remove blockages and grime from all kinds of gutter systems.
You can use our services to unblock your drainage system or a few times in the year to keep the gutters cleaned and functioning effectively. Over time leaves, mud and grime can get trapped in downpipes, fascias and soffits which make the property look unmaintained and can cause damages.
Our company offers high-quality gutter cleaning that we carry out in and near Fulham, SW6 during weekdays and weekends. Use our services to ensure the presentable and functional state of your property's guttering.